If you are a vivid follower of the stock market, the recent plunged of Shanghai stock market was due to deleveraging. It can just declined more than 20% in 2 weeks. The above chart looks scary to me. The margin is even higher than the tech bubble. It will be too late to run when the margin calls are here.
'Black Friday' sweeps over stock market
By Dai Tian (chinadaily.com.cn)
Updated: 2015-06-26 16:34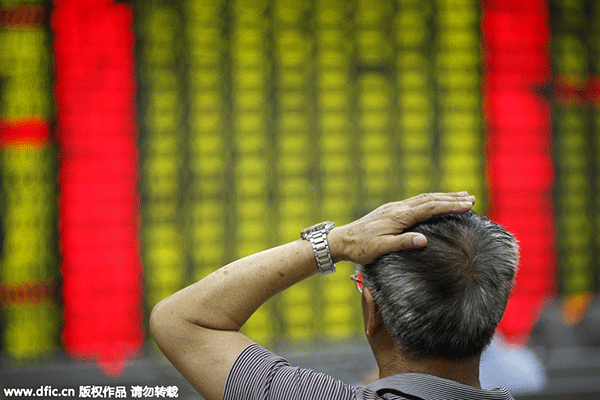 Investor at a securities brokerage in Huaibei city, East China's Anhui province, June 26, 2015. [Photo/IC]
Chinese stocks suffered a "Black Friday", with the ChiNext index, a Nasdaq-style board ofShenzhen-listed growth enterprises, plunging 8.9 percent as fears saw leveraged investorsjettison their holdings.
The benchmark Shanghai Composite Index dived 7.4 percent to 4,192.87 at the close, itssteepest fall in five months, while the Shenzhen Component Index slumped 8.2 percent to14,398.79.
"Signs of the market edging down have triggered panic among investors, many of whom areleveraged and forced to close their position," said Yang Delong, chief strategist at ChinaSouthern Asset Management.
Data showed pullback by leveraged trading as the outstanding balance of margin-debt at theShanghai Stock Exchange fell from a record high for a fourth day on Thursday to 1.42 trillionyuan ($229 billion).
"The market will remain volatile but likely to rebound if not in a short term," the strategist toldChina Daily, adding that it's too early to say the country's year-long bull market has peaked.
The market view diverged however as Morgan Stanley advised clients to refrain frominvesting in mainland shares in a report on Friday, saying the top for the cycle has beenreached.
Nearly 2,000 stocks tumbled by the daily limit of 10 percent on Friday, among whichtechnology shares and small companies led the rout.
"The decline is part of an automatic adjustment in response to the rapid surge earlier and isthe result of a market mechanism, amplified by liquidity fluctuation and deleveraging," saidZhang Xiaojun, a spokesman for the China Securities Regulatory Commission, at the weeklybriefing on Friday.
Despite the sharp correction, market liquidity is abundant and the economy has shownstronger signs of stable growth, he added.
The Shanghai gauge has surged nearly 30 percent since the beginning of this year and 124percent over the past year until Thursday.
"The deleveraging is healthier for the market after all," said Yang, adding that he recommendsblue-chips whose valuations are below the historical level and defensive sectors such asbeverage and insurance stocks.
The CSI 300 Index slumped 7.9 percent to close at 4,336.20 on Friday.
Cai Xiao contributed to this story.